BRING US TO YOUR ORGANIZATION​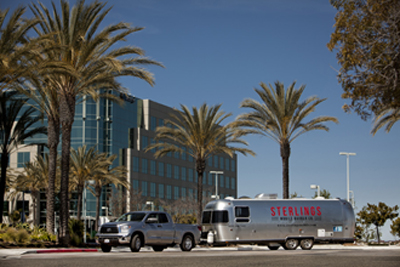 STERLINGS is the premier mobile salon & barbershop servicing tech parks and property management companies Monday to Friday. The STERLINGS unit is a climate controlled, self-contained, and self-supporting enclosed unit (water, trash) and does not require a hookup to local facilities.
For employees, STERLINGS removes the frustration of having to drive and wait in line at your typical brick and mortar chain salon or barbershop.
For companies and property management firms, STERLINGS provides a competitive advantage in the form of attraction, retention and productivity.
Many companies have realized the perks of mobile services to attract top tier employees. Progressive companies such as Intuit, Illumina, Irvine Co., Sony, Facebook, Genentech, Google, Qualcomm, Zynga are currently using mobile haircutting as one of many services to attract employees.
A 2011 MetLife Benefit survey indicated that for companies of all sizes, 1 in 3 employees is a flight risk. Benefits have been linked very closely with employee loyalty and employees see benefits as an important reason to stay with an employer. Over 70% of employees who are satisfied with their benefits are loyal to their employer. Convenience benefits such as mobile barbershops are used and valued by 30% of employees between the ages of 20-45.
It is no secret that a happier employee is a more productive one. The average male receives a haircut every 3-4 weeks and the average female every 8 weeks, and is often forced to leave work early or take a long lunch causing undue employee stress and resulting in hours of lost time for employers.
As part of the STERLINGS Network employees receive various specials on services. Companies can take pride in knowing that their employees are getting a great service, improving their well being all the while increasing their productivity.
WOULD YOU LIKE STERLINGS TO COME TO YOUR ORGANIZATION?
Please call us at (858) 848-7622 or fill out the below form and we'll contact you.